Welcome to the AT-PBRN
The Athletic-Training Practice-Based Research Network (AT-PBRN) is an affiliate network of the Agency for Health Care Research and Quality (AHRQ) and is the first and only practice-based research network in athletic training.  The mission of the AT-PBRN is to improve the quality of care and patient outcomes for patients under the care of athletic trainers. Its headquarters is located at A.T. Still University in Mesa, AZ and its personnel consists of 8 athletic training researchers, a bio-statistician, a post-doctoral research fellow, and a research coordinator. In addition, the AT-PBRN houses an external advisory board, which consists of a panel of fellow athletic trainers from across the country.


In 2008, the A.T. Still University Athletic Training Program received funding from the NATA Research and Education Foundation to implement a 3-year project to educate and train post professional athletic training students in clinical outcomes and evidence-based practice. One of the primary goals of the project was to provide an online resource for healthcare outcomes training for all athletic trainers. ATPBRN.org developed out of that original project, and continues to be a source for clinical outcomes and EBP education for athletic trainers.


The AT-PBRN has 3 primary initiatives:

Address current issues in athletic training. This includes characterizing the profession of athletic training by formally describing the patients under the medical care of athletic trainers, the types of conditions and injuries athletic trainers encounter over the course of daily clinical practice, and the types of services athletic trainers provide to their patients.

Identify interventions that are effective and cost-efficient for patient care with the primary goal of enhancing the quality of care athletic trainers provide to their patients.  




Position athletic training within the healthcare system and improve our standing as a high-quality healthcare profession amongst other healthcare professionals, within the general public, and amongst legislators and policymakers.

 
To learn more about the AT-PBRN, watch the video introduction below.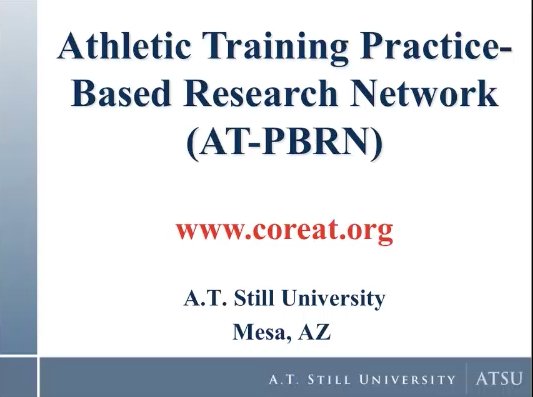 A.T. Still University Athletic Training is pleased to announce the new Graduate Certificate in Clinical Decision-Making in Athletic Training. This four course certificate is designed for educators looking to gain additional experience in the areas of evidence-based practice, clinical outcomes, medical informatics, and epidemiology, to aid with instruction of the new athletic training competencies. In addition, the material is a great fit for clinicians who want to improve their clinical reasoning skills.
To learn more, visit the program website. (http://www.atsu.edu/AT-Grad-Certificate/)
Within this site you will find information on Evidence-Based Practice, clinical outcomes assessment, practice-based research networks, and the CORE-AT Electronic Medical Record. Through the use of AT-PBRN.org, we hope to provide a valuable education and training resource for healthcare outcomes and evidence-based practice in athletic training.
If you have questions regarding the AT-PBRN, or would like to become a participating member, please contact us.